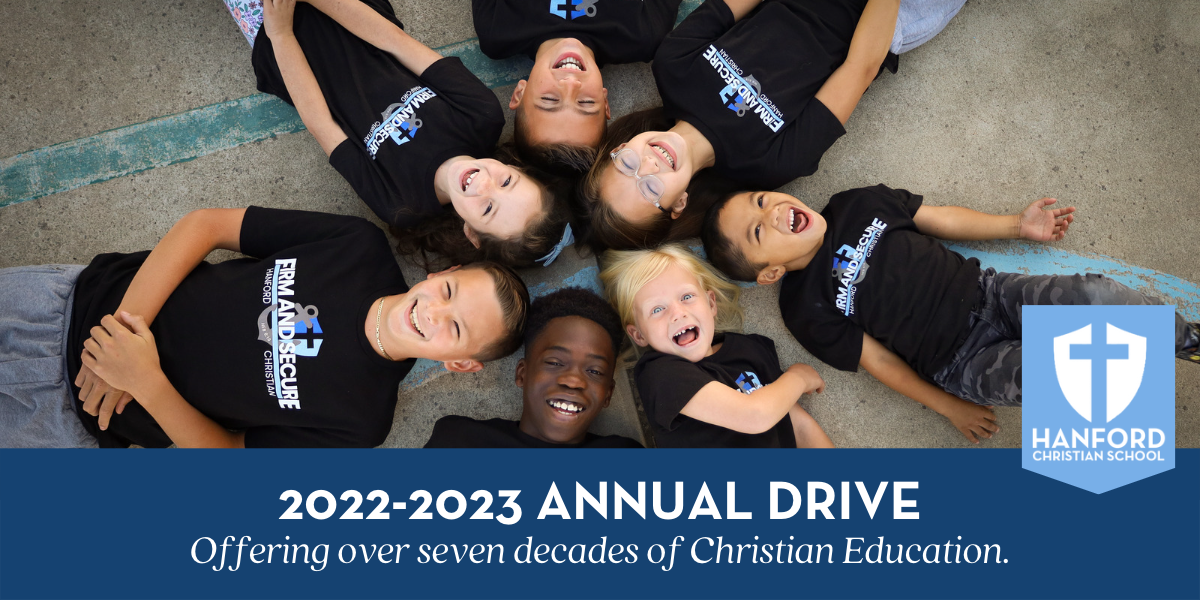 Why Does HCS Have an Annual Drive?
Tuition alone only covers approximately 82% of our annual budget. The Annual Drive helps to cover the additional expenses of HCS throughout the year.
Our goal this year is to raise $175,000.
Our long term goal is to continue to increase enrollment, and faithfully serve the Kings County community.
Let God Use YOU to Continue His Work!
The mission of Hanford Christian School is to educate, equip and inspire every student to serve the world for Christ. Please consider furthering that mission by contributing to the largest fundraiser of the year, The Annual Drive. Every gift is significant!
Our theme for the 2022-2023 school year is, "Firm and Secure."
Our prayer for this school year is that our students, teachers, and faculty fully choose to let our hope in His word anchor our faith and dependability upon Christ.
The Lord is always faithful and we know He will provide for the needs of HCS during this season of tremendous growth. Any amount that you give will help us reach our goal to provide a Christ-centered education for our students.
Support
If you feel led to continue to support Hanford Christian School's mission to educate, equip and inspire every student to serve the world for Christ, please fill out this form.
We are grateful for God's provision through your generosity!
We Are Grateful for You
Fulfilling our mission would not be possible without the faithful and continuing support of individuals and families like you. You are a valuable member of our larger HCS Family and we greatly appreciate your support. Your generous financial gift is just one way of giving back to HCS; we always appreciate your time, your talents, and your prayers.
Thank you in advance for your serious consideration of this important financial request. If you have questions regarding our Annual Drive, please call our office at 559-584-9207.